Caravan Stands / Camping Sites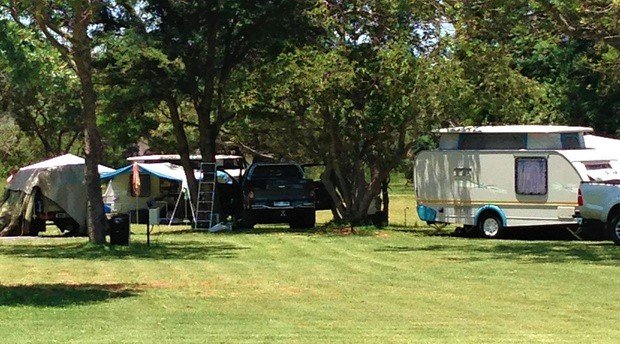 Our camping sites provide everything the enthusiastic camper could ever want - book now to avoid disappointment! Ten spacious caravan stands/camping sites with awesome views make this a must for nature lovers.
We offer braai facilities (braai pit & braai stand), running water and a power point (2 x 10 Amp and 1 x 20 Amp) for each camping site.
Groups between 2 to 10 persons can be accommodated on each very spacious camping site. Stands are well positioned and reasonably close to the ablution facilities. The clean and beautifully constructed wheelchair friendly, thatched ablution facilities include showers, toilets and basins. Also available, at no extra cost, is use of the family bathrooms with a bath, shower, toilet, basin as well as the baby change room. No need to bring drinking water, our borehole provides deliciously clear and wholesome water on tap!   We also suggest to bring Bayticol Aerosol (tick repellent, available at Dis-Chem).
Free WiFi !!
Small children must always be under the close supervision of their parents. The camping sites are close to a dam where wild animals quench their thirst. Don't be surprised to receive welcome visits from giraffe, impala, kudu, bushbuck, zebra and various other species while enjoying your sundowner!
Further facilities such as a swimming pool and kids playground with swings and sandpits are on site for your enjoyment.  Bring your kid's bicycles, they love riding around in lots of open space!
We strive to continuously upgrade and extend facilities without detracting from the unique character of this beautiful corner of paradise in the malaria-free foothills of the Waterberg.
Buyskop Guest Lodge offers facilities that will make your holiday or weekend breakaway an unforgettable experience.
Take your binoculars and camera, relax, experience tranquility and watch nature unfold itself before you. The abundance of game in the Reserve will take your breath away.
Facilities at Buyskop are more than sufficient to keep everyone coming back for more. Have a look at the amenities in the area activities to explore and things you may want to know about Bela Bela.
Please: Do not confuse the facilities at the Camping Sites with those offered by the Baobab Spa.  The jacuzzi can only be used if Spa treatments have been booked.